July 15 – 17, 2021
Indiana Spine Group, Medical Academic Center
Indianapolis, Indiana
This course is intended for spine fellows and senior level residents residing in the United States who are interested in learning from experienced, world renowned, Cervical Spine Research Society (CSRS) members.
Residents and fellows may be eligible for free registration, accommodation, and a travel stipend. Email info@csrs.org for a reservation application and payment information.
The course will cover the latest advances and techniques of the cervical spine including:
Understanding the intricate anatomy of the uncinate process, nerve roots, the vertebral artery, foramen and identify their relationship to each other
Discuss surgical indications and complication management for cervical spine procedures
Review and perform the following cervical spine procedures on cadaveric tissue:

​Anterior and posterior surgical approaches including: laminotomy, foraminotomy, laminoplasty, laminectomy, and facetectomy
Fusion techniques including: occipital-cervical constructs, C1-2 fixation, subaxial screw and rod constructs
Anterior decompression techniques including: disectomy, foraminotomy, corpectomy
Anterior fusion techniques including: interbody and corpectomy grafting, as well as subaxial plate, odontoid fixation and cages
Transoral approach to dens resection
2021 Corporate Partnership Opportunities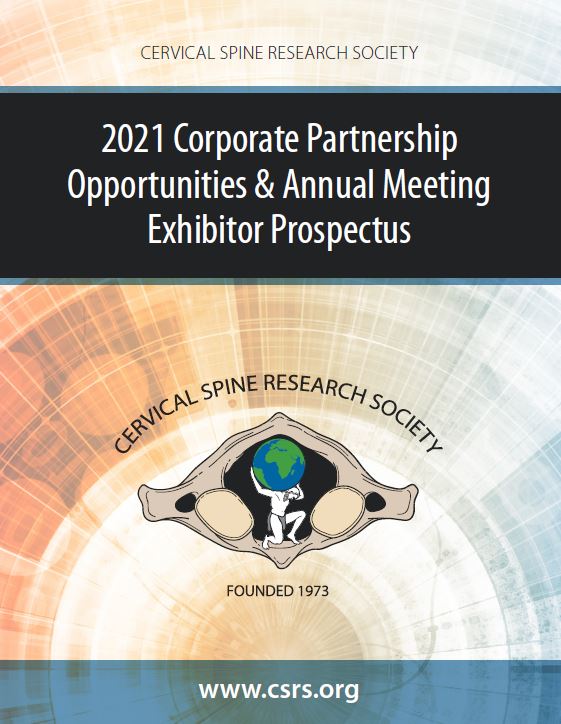 Learn more.
---