For the latest news and events, please see the announcements below.
Announcing the 12th Annual Henry H. Bohlman Presidential Guest Lecture: Jeff Foxworthy
Announcing the 12th Annual Henry H. Bohlman Presidential Guest Lecture: Jeff Foxworthy
In-Person, Marriott Marquis, Atlanta, Georgia
2:05pm-3:10pm EST, Thursday, Dec. 2, 2021
*This presentation is only available in-person.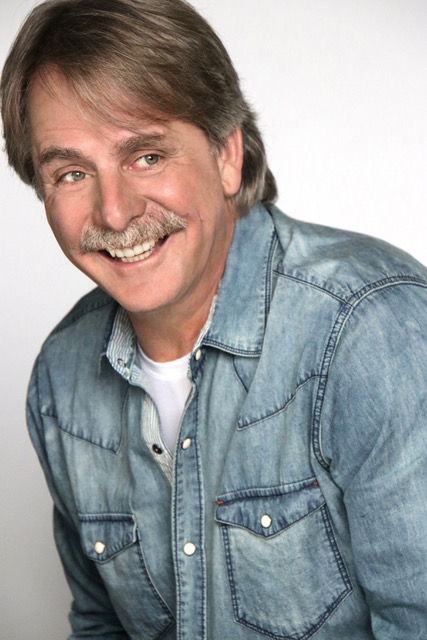 Laugh along with comedy-genius Jeff Foxworthy as he shares life advice and rip-roaring stories at the CSRS 49th Annual Meeting.
Jeff Foxworthy is one of the most respected and successful comedians in the country. He is the largest selling comedy-recording artist in history, a multiple Grammy Award nominee and best selling author of more than 26 books. In 2014, he was inducted into the Georgia Music Hall of Fame. Widely known for his redneck jokes, his act goes well beyond that to explore the humor in everyday family interactions and human nature, a style that has been compared to Mark Twain's.
Jeff is currently on his new comedy tour "The Good Old Days," which features all new material. This unforgettable night of comedy kicks off in Bowler, WI and includes a stop in his hometown at The Fox Theater in Atlanta where he will film a comedy special. We are excited to welcome him for the CSRS 49th Annual Meeting in his hometown!
Call for Committee Members: 2022-2024

Do you have interest in serving on a CSRS Committee for the 2022-2024 term? Complete an interest form here. Committee appointments will be made based upon space available in each committee, so we may not be able to honor all requests. Click here to view Committee descriptions.
Call for Member Surveys
CSRS leadership has determined that surveys are an effective mechanism for obtaining data on topics that are central to our organization and that provide value to our membership.
Submission deadline is October 31, 2021
49th Annual Meeting & 26th Instructional Course Registration Open Now
Registration is officially open for the 49th Annual Meeting and 26th Instructional Course. Registration is open until November 22, 2021. You won't want to miss this meeting & course.
49th Annual Meeting Registration
Register today for the 49th CSRS Annual Meeting! We received overwhelming feedback from the 2020 meeting participants that you missed the face-to-face format, live discussions, and fiery debates that an in-person meeting promotes. We missed you too, and look forward to an exceptional in-person meeting at the Marriott Marquis. While the meeting is in-person, we will also have key content available to view on-demand. CSRS will be following the current protocols as recommended by the Centers for Disease Control (CDC), City of Atlanta, and Marriott International to ensure the safety of Annual Meeting attendees and faculty.
---
26th Instructional Course Registration
Register for the 26th CSRS Instructional Course now! With world-renowned faculty for this three-day program, we know you will not want to miss a single virtual or in-person minute! The 26th Instructional Course will be virtual November 29-30 and in-person on December 1, 2021. The course will be recorded for on-demand viewing.
Now Accepting Nominations for CSRS Vice President
CSRS is formally soliciting nominations for the office of Vice President. Nominees must be active members in good standing. The expectation is that before submitting names, nominees will be aware that they are being nominated and have an interest in running for office. Nominations will be accepted until Sept. 22, 2021.
Congratulations to the 2021 Research Award Paper & E-Poster Recipients
2021 Research Award Papers & E-Posters
Congratulations to the 2021 Research Award Papers & E-Poster recipients. Of the 386 abstracts awarded in 2021, these 11 abstracts were awarded best in Clinical Research, Basic Science, Resident/Fellow, and E-Poster.
Basic Science Awards
FIRST PLACE BASIC SCIENCE AWARD

Posterior Cervical Spinal Fusion Assemblies Intended to Cross the Cervicothoracic Junction: A Mechanical Analysis
John T. Sherrill, PhD; Presenting Author - David B. Bumpass, MD; Erin M. Mannen, PhD
2nd Place BASIC SCIENCE AWARD

Do Inflammatory Cytokines Affect Patient Outcomes after ACDF?
Presenting Author - Brian A. Karamian, MD; Dessislava Z. Markova, PhD; Hannah A. Levy, BS; Payton M. Boere, BS; Goutham R. Yalla, BS; Taolin Fang, MD, PhD; Paul W. Millhouse, MD; Mayan Lendner, BS; Alan S. Hilibrand, MD; Christopher K. Kepler, MD, MBA, MD; Alexander R. Vaccaro, MD, PhD, MBA; Gregory D. Schroeder, MD
3rd Place BASIC SCIENCE AWARD

Cervical Total Disc Replacement: Available Implant Size Matters
Presenting Author - Richard D. Guyer, MD; Domagoj Coric, MD; Pierce D. Nunley, MD; Donna D. Ohnmeiss, MD
Clinical Research Awards
FIRST PLACE CLINICAL RESEARCH AWARD

No Difference in Reoperation Rates in Posterior Cervical Fusions Stopping at C7 versus T1/T2 for Nonunions (Operative Nonunions): A cohort of 875 Patients - Part 2
Jacob H. Fennessy, MD; Kern H. Guppy, MD, PhD; Presenting Author - Kathryn E. Royse, PhD; Elizabeth P. Norheim, MD; Jessica E. Harris, MS; Harsimran S. Brara, MD
2nd Place CLINICAL RESEARCH AWARD

Predictive Factors for the Aggravation of Cervical Alignment after Posterior Cervical Foraminotomy
Presenting Author - Hyung Rae Lee, MD; Dong-Ho Lee, MD, Phd; Sang Yun Seok, MD; Jae Hwan Cho, MD, PhD; Sehan Park, MD
3rd Place CLINICAL RESEARCH AWARD

Racial Disparities in Patients Undergoing Anterior Cervical Discectomy and Fusion: A Multi-Site Study
Thaddeus Woodard, B.S.; Brian Cortese, B.S.; Sachin Gupta, MD; Sarthak Mohanty, B.S.; David Casper, MD; Presenting Author - Comron Saifi, MD
Resident/Fellow Research Awards
FIRST PLACE RESIDENT/FELLOW RESEARCH AWARD

The influence of timing of surgical decompression for acute spinal cord injury: a pooled analysis of individual patient data in 1,548 cases
Presenting Author - Jetan H. Badhiwala, MD, PhD; Jefferson R. Wilson, MD, PhD; Christopher D. Witiw, MD, MS; James S. Harrop, MD, FAANS;; Alexander R. Vaccaro, MD, PhD, MBA; Bizhan BA. Aarabi, MD; Robert G. Grossman, MD; Fred H. Geisler, MD, PhD; Michael G. Fehlings, MD, PhD
2nd Place RESIDENT/FELLOW RESEARCH AWARD

Simulated Bundled Payments for Four Common Surgical Approaches to Treat Cervical Spondylotic Myelopathy: A Consideration to Break the Clinical Equipoise
Presenting Author - Nikhil Jain, MD; Mayur Sharma, MD; Dengzhi Wang, MS; Beatrice Ugiliweneza, PhD, MSPH; Doniel Drazin, MD; Maxwell Boakye, MD, MPH, MBA, FACS
3rd Place RESIDENT/FELLOW RESEARCH AWARD

Comparison of Clinical Guidelines for Reimbursement for Intra-Operative Neuromonitoring During Spine Surgery in the United States
Presenting Author - Daniel Berman, MD; Nathaniel L. Tindel, MD; Ari J. Holtzman, MD
E-Poster Awards
GENERAL E-POSTER AWARD

Automated detection of cervical spinal cord compression and the reliability of morphometric parameters extracted with the Spinal Cord Toolbox
Presenting Author - Magda MH. Horáková, MD; Tomáš TH. Horák, MD; Jan JV. Valošek, MSc; Tomáš TR. Rohan, MD; Eva Koritáková, PhD; Jan JK. Kocica, MD; Tomáš Skutil, MD; Zdenek ZK. Kadanka, MD; Petr Bednarík, MD; Alena AS. Svátková, MD; Josef JB. Bednarik, MD
RESIDENT/FELLOW E-POSTER AWARD

Modified Kappa-line correlates better with neurological outcomes than modified K-line after laminoplasty for cervical myelopathy caused by ossification of the posterior longitudinal ligament
Dong-Ho Lee, MD, PhD; Jae Hwan Cho, MD, PhD; Sehan Park, MD; Presenting Author - Seong Hun Song, MD; Seung Hyun Baek, MD; Jun Hee Lee, MD; InHee Kim, MD